Human Action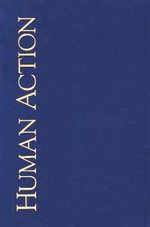 The Scholar's Edition
Human Action is the most important book on political economy you will ever own. It was (and remains) the most comprehensive, systematic, forthright, and powerful defense of the economics of liberty ever written.
The Scholars Edition is the original, unaltered treatise (originally published in 1949) that shaped a generation of Austrians and made possible the intellectual movement that is leading the global charge for free markets.
Made available for the first time in decades, exclusively through the Ludwig von Mises Institute, this edition is the one to own (the 2nd edition was thoroughly botched, while the 3rd deletes valuable material and introduces some ambiguities; the 4th edition, currently in print, is the 3rd edition with a new foreword).
The pagination of the original 1949 edition is preserved, but it also includes invaluable additions.
Using extraordinary materials and the best of modern technology, combined with ancient standards of craftsmanship in the tradition of Oxford University's Clarendon Press, this magnificent work is produced for the ages.
Includes the 1954 index prepared under Mises's supervision, the most complete ever published, united here with the book for the first time.
The introduction, by Hans-Hermann Hoppe, Jeffrey Herbener, and Joseph Salerno - based on newly discovered archives - tells of the tragic and glorious history of this seminal work, and of its bright future as the manifesto of liberty.
Protected by a strong slipcase from the famous Old Dominion company.
Source: Ludwig von Mises Institute
» Zu diesem Buch eine Rezension schreiben «
Noch keine Rezensionen vorhanden