Austrian Economics And The Political Economy Of Freedom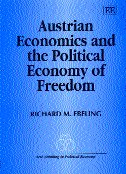 please allow approx. 2-3 weeks for delivery
Richard Ebeling's insightful and highly readable book explains and applies the ideas of the Austrian economists to a wide range of contemporary public policy issues. He combines intellectual political–economic history with the modern Austrian theory of the market process to challenge the premises and uses of mainstream neoclassical economics.
Contents:
Introduction
1. How Economics Became the Dismal Science: The Classical Economists and 20th Century Economics
2. The Significance of Austrian Economics in 20th Century Economic Thought
3. A Rational Economist in an Irrational Age: Ludwig von Mises
4. Economic Calculation under Socialism: Ludwig von Mises and his Predecessors
5. Ludwig von Mises and the Gold Standard
6. Classical Liberalism and Collectivism in the 20th Century
7. The Political Myths and Economic Realities of the Welfare State
8. The Free Market and the Interventionist State: The Political Economy of Public Policy
9. The Limits of Economic Policy: The Austrian Economists and the German ORDO Liberals
10. The Global Economy and Classical Liberalism: Past, Present and Future
Index
Review:
"Richard M. Ebeling is one of the most dedicated and competent scholars engaged in research on the life and work of Ludwig von Mises. Professor Ebeling's work on different aspects of Austrian economics is thorough and enlightening. The publication of this collection of his essays will be welcomed by all discerning scholars in the field." – Israel M. Kirzner, New York University, US
Source: Edward Elgar Publishing Ltd.
» Zu diesem Buch eine Rezension schreiben «
Noch keine Rezensionen vorhanden