Alongside Night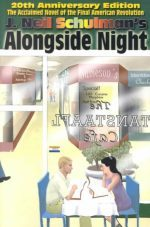 Ripped from Today's Headlines! - The Prophetic Novel of the Final American Revolution!
The American dollar is in free fall. Prices are soaring. Foreclosures and unemployment are up, and even defense contracts are going overseas. Foreigners are buying up everything in America at firesale prices while gloating over the fall of a once great nation. Homeless people and gangs own the streets. Smugglers use the latest technology to operate bold enterprises that the government is powerless to stop, even with totalitarian spying on private communications. Anyone declared a terrorist by the administration is being sent to a secret federal prison where constitutional rights don't exist.
And caught in the middle of it all are the brilliant 17-year-old son of a missing Nobel-prizewinning economist, his best friend from prep school whose uncle was once a guerrilla fighter, and the beautiful but mysterious 17-year-old girl he meets in a secret underground ... a girl who carries a pistol with a silencer.
The setting could be next week. But this novel was written three decades ago by a 23-year-old college drop-out who crafted his particular brand of prophecy from combining the techniques of science fiction with projections based on an obscure economic theory.
Building on the prophetic novels of Orwell, Rand, and Heinlein, J. Neil Schulman created in Alongside Night the first of a new generation of libertarian novels, telling the story of the last two weeks of the world's greatest superpower through the perceptive eyes of a young man caught up in the maelstrom of the final American revolution.
Alongside Night scored lavish praise for a first novel when it appeared in 1979, winning accolades from luminaries such as the English novelist many consider the greatest of his generation, and from the first American to win a Nobel Prize in Economics. Ten years later the Libertarian Futurist Society voted the book into the Prometheus Hall of Fame for novels embodying the spirit of liberty, alongside Orwell's 1984, Rand's Atlas Shrugged, Heinlein's The Moon Is A Harsh Mistress, and Bradbury's Fahrenheit 451.
The last time the novel saw print was in 1987. Now, Pulpless.Com is making J. Neil Schulman's classic novel of the last and first days of America available once again, and perhaps, this time, its prophetic clarion call will be heard ... if there's still time.
About the book:
"One of the most widely hailed libertarian novels since the classic works of Ayn Rand." - Reason Magazin
"An absorbing novel - science fiction, yet also a cautionary tale with a disturbin resemlance to past history and future possibilities." - Milton Friedman, Nobel laureate in Economics
"Probably the best libertarian novel since Atlas Shrugged." [dt. Ausgabe: Wer ist John Galt?, Anm. der Red.] - Science Fiction Review
"This is a radical novel. It pulls no punches, offers no compromises. It effectively presents a social, moral, and political point of view without polemic, without stridency. Without hysteria, it projects a bleak future for us all, but not without hope, for there's a deep affection for humanity despite its foibles underlying every sentence." -F. Paul Wilson
Source: pulpless.com
» Zu diesem Buch eine Rezension schreiben «
Noch keine Rezensionen vorhanden