A Tiger by the Tail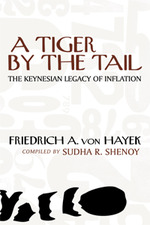 buchausgabe.de has only a small stock of this book
F.A. Hayek said that his biggest regret in a lifetime of writing was that he never wrote a book-length refutation of Keynesian economics. He seriously doubted that Keynesian style planning would ever captivate governments, so he focused on different things.
Economist Sudha Shenoy decided to rectify the problem. As a Hayek scholar, she noted that Hayek had in fact addressed Keynesian policy in scattered places throughout 40 years of writing. She decided to select the most poignant passages. She linked them all together with marvelous commentary and analysis.
And voila! Here is the book on Keynesian economics that Hayek never wrote.
It first came out in 1972, to wide acclaim. The Hayek parts are fantastic, of course. The surprise is the expert editing job by Professor Shenoy, which adds enormous value. In 192 pages, the book ended up being a total demolition by Hayek of the most baneful influence on economic science in the 20th century.
It was published by the Institute of Economic Affairs but fell out of print. The Mises Institute cooperated with IEA to completely reset the book and publish it anew. It adds something even more wonderful: a massive introduction by monetary theorist Joseph T. Salerno.
In total, then, this is a priceless collection, one that will enlighten and save you from hopping up and down to your bookshelf. It strikes you as you read what a brilliant mind Hayek had, how tough minded he really was, and just how off base is Keynesian theory.
You can get the metaphor from the title. What Keynesianism unleashes is wicked inflation that no one can control. This might be the essential guide to our future.
Books excerpted include:
Prices and Production (1931)
Monetary Nationalism and International Stability (1937)
The Pure Theory of Capital (1941)
A Commodity Reserve Currency, Economic Journal (1943)
Studies in Philosophy, Politics and Economics (1967)
The Constitution of Liberty (1960)
Personal Recollections of Keynes and the "Keynesian Revolution", The Oriental Economist (1966)
Competition as a Discovery Procedure, New Studies in Philosophy, Politics and Economics (1978)
Caracas Conference Remarks, Mont Pèlerin Conference (1969)
Good and Bad Unemployment Policies, Sunday Times (1944)
Full Employment Illusions, Commercial & Financial Chronicle (1946)
Full Employment in a Free Society, Fortune (1945)
CONTENTS
Acknowledgements.
Guide to Extracts and Articles
Introduction to the Third Edition by Joseph T. Salerno
Preface by Arthur Seldon
Preface to the Second Edition by Arthur Seldon
The Author

I. The Debate, 1931–1971: Sudha Shenoy
The Approach to an Incomes Policy
'Micro' Dimensions Acknowledged
Is There a Price 'Level'?
Further Implications of Hayekian Analysis
II. The Misuse of Aggregates
1. Inflationism
2. No Causal Connection Between Macro Totals and Micro Decisions
3. Fallacy of 'The' Price Level
4. Economic Systems Overleap National Boundaries
Misleading Concepts of Prices and Incomes
5. Dangers of 'National' Stabilisation
Theoretical Case Not Argued
Relative Price and Cost Structures
6. Monetary Danger of Collective Bargaining
III. Neglect of Real for Monetary Aspects
7. Keynes's Neglect of Scarcity
Investment Demand and Incomes
Final Position of Rate of Return
Mr. Keynes's Economics of Abundance
Basic Importance of Scarcity
8. Importance of Real Factors
Significance of Rate of Saving
9. Dangers of the Short Run
Betrayal of Economists' Duty
IV. International versus National Policies
10. A Commodity Reserve Currency
An Irrational but Real Prestige
11. Keynes's Comment on Hayek
Conditions for National Price Stability
Different National Policies Needed
12. F.D. Graham's Criticism of Keynes.
The 'Natural Tendency of Wages'
Gold Standard 'Dictation'
Unanchored Medium of Exchange
The Real Problem of Unemployment
Professor Hayek's 'Intransigence'
13. Keynes's Reply to Graham
V. Wage Rigidities and Infl ation
14. Full Employment, Planning and Inflation
Full Employment the Main Priority
Unemployment and Inadequate Demand
Main Cause of Recurrent Unemployment
Expansion May Hinder Adjustment
15. Inflation Resulting from Downward Inflexibility of Wages
Importance of Relative Wages
Inflation—A Vicious Circle
The State of Public Opinion
16. Labour Unions and Employment
Changed Character of the Problem
Union Coercion of Fellow Workers
Wage Increases at Expense of Others
Harmful and Dangerous Activities
Acting against Members' Interests
Responsibility for Unemployment
Progression to Central Control
'Unassailable' Union Powers
17.
(a) Inflation—A Short-term Expedient
Inflation Similar to Drug-taking
The Path of Least Resistance
17.
(b) Inflation—The Deceit is Short-lived
Limited Central Bank Influence
Weak Opposition to Inflation
VI. Main Themes Restated
18. Personal Recollections of Keynes
Full Employment Assumption
Wide Intellectual Interests
19. General and Relative Wages
Unpredictability and the Price System
Importance of Relative Wages
20. Caracas Conference Remarks
VII. The Outlook for the 1970s: Open or Repressed Inflation?
Repressed Infl ation a Special Evil
Central Control and 'Politically Impossible' Changes
Profit-sharing a Solution
Basic Causes of Inflation
VIII. Addendum 1978
Introduction by Sudha Shenoy
Guiding Role of Individual Price Changes
21. Good and Bad Unemployment Policies
22. Full Employment Illusions
Money Expenditure and Employment
An Old Argument in New Form
The Shortcomings of Fiscal Policy
Consumers' Goods Demand and Investment Activity
Purchasing Power and Prosperity
Why the Slump in Capital Goods Industries?
23. Full Employment in a Free Society
Hayek's Writings: A List for Economists
Index
Source: Mises Institute
» Zu diesem Buch eine Rezension schreiben «
Noch keine Rezensionen vorhanden