A model of Austrian economics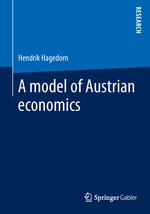 104 p. 26 illus., 10 illus. in color.
After the most recent financial crisis it has become clear that there exists a crisis also in economics as a science. The prevailing paradigms have failed to anticipate and to understand the financial crisis. New approaches are therefore needed. Of particular interest should be approaches that combine insights from those parts of economics that are largely neglected by the mainstream. Hendrik Hagedorn presents a model that synthesizes elements of Austrian, post-Keynesian, and evolutionary economics. Thus, an economic paradigm is developed that challenges neoclassical economics as a whole.
Contents
An agent-based economy within an accounting framework
Reaction algorithms for households, firms, and banks
A contribution to interest-rate theory
A comparison of Austrian and neoclassical economics
Link to Table of Content
Quelle: Springer Verlag
» Zu diesem Buch eine Rezension schreiben «
Noch keine Rezensionen vorhanden