Uber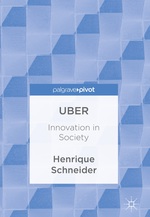 Innovation in Society
Der Autor behandelt die Thematik als "case study" für Austrian Economics. Das Buch ist in englischer Sprache.
Aus dem Produktflyer:
Analyzes a fast-changing environment from an economic and philosophical perspective
Serves as an interdisciplinary text covering not only philosophy, but also economics, business, ethics and law
Briefly explains the "Uber" phenomenon
This book employs a variety of economic and philosophical methodologies in order to discover the philosophical implications of creative destruction, competition regulation, and the role that businesses or market agents play. Instead of discussing these relations in a purely abstract manner, Schneider uses Uber to illuminate important matters in economic and philosophical thought.
Schneider tells the following story: While creative destruction and disruptive innovation change the entrepreneurial landscape, regulation--especially the regulation of sectorial markets and competition regulation— delay this change or even bring it to a halt. Uber, as an agent in the market, is not just an object moved by these two opposing forces. Rather, it plays an active role, first as an agent of creative destruction and then in championing regulations on its own terms.
Quelle: Produktflyer, Springer Palgrave Macmillan
» Zu diesem Buch eine Rezension schreiben «
Noch keine Rezensionen vorhanden