The Travels of a T-Shirt in the Global Economy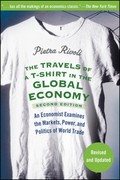 An Economist Examines the Markets, Power, and Politics of World Trade
2nd edition
The Travels of a T-Shirt in the Global Economy has been lauded by the New York Times, Financial Times, and reviewers worldwide. Translated in fourteen languages, Travels has received numerous awards for its frank and nuanced discussion of global economic realities. Now updated and revised--including a discussions of environmental issue--this fascinating book illustrates crucial lessons in the debate on globalization.

The major themes and conclusions from the first edition are intact, but in response to questions from readers and students around the world, the second edition now includes:
* Updates on the people, businesses, and politics involved in the production of the T-shirt.
* Discussions of environmental issues related to both international trade and the T-shirt's life story.
* A look at the maturing of the anti-globalization movement, and the recent shift in public opinion against internationalism.
Content:
Preface to the Second Edition.
Prologue.
PART I: KING COTTON.
Chapter 1: How America Has Dominated the Global Cotton Industry for 200 Years.
Chapter 2: The History of American Cotton.
Chapter 3: Back at the Reinsch Farm.
Chapter 4: All God's Dangers Ain't the Subsidies.
PART II: MADE IN CHINA.
4. Cotton Comes to China.
5. The Long Race to the Bottom.
6. Sisters in Time.
PART III: TROUBLE AT THE BORDER.
Chapter 9: Returning to America.
Chapter 10: Dogs Snarling Together.
Chapter 11: Perverse Effects and Unintended Consequences of T-Shirt Trade Policy.
Chapter 12: 45 Clears of "Temporary" Protectionism Ends in 2009--Now What?
PART IV: MY T-SHIRT FINALLY ENCOUNTERS A FREE MARKET.
Chapter 13: Where T-shirts Go after the Salvation Army Bin.
Chapter 14: How Small Entrepreneurs Clothe east Africa with Old American T-Shirts.
Chapter 15: Mitumba: Friend or Foe to Africa?
Conclusion.
Acknowledgments.
Notes.
Bibliography.
Index.

Source: Wiley-VCH
Also available as hardcover
» Zu diesem Buch eine Rezension schreiben «
Noch keine Rezensionen vorhanden